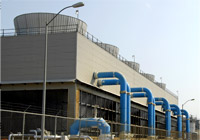 Therma-Kul Technologies is an independent parts and service provider for all market sections who are users of WET and DRY Cooling towers of various range and sizes. We have the complete replacement parts and components to suit your needs.
We have many years of credible and diverse experience in the cooling tower business especially with Marley Cooling Towers. Our customers are over-excited with our new business organization, whereby our minimal cost of operation, vast practical experience and lean management, has helped our customers to reduce the cost of purchase for their cooling tower components, without any sacrifice for the performance of their cooling towers and decrease downtime to overall operations in their plants and facilities.
Our diligent sourcing of spare parts and components worldwide and our own manufacturing of components, has provided good alternatives to our customers, when deciding on the right suppliers and repair/servicing contractors.
Therma-Kul Technologies adheres to strict quality control standards. We stand behind our products and workmanship. With us it's more than a word …. It is our reputation.